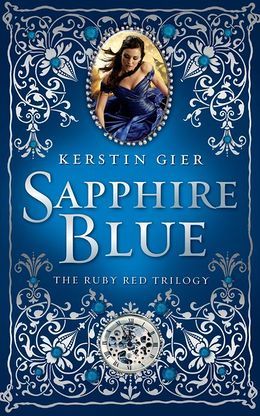 Title of Book:
Sapphire Blue
Series:
Precious Stone #2
Author:
Kerstin Gier
Publisher:
Henry Holt
Publication Year:
2012
Language:
English
Translator:
Anthea Bell
Format:
Hardback
Pages:
362
Gwen's life has been a rollercoaster since she discovered she was the Ruby, the final member of the secret time-traveling Circle of Twelve. In between searching through history for the other time-travelers and asking for a bit of their blood (gross!), she's been trying to figure out what all the mysteries and prophecies surrounding the Circle really mean.

At least Gwen has plenty of help. Her best friend Lesley follows every lead diligently on the Internet. James the ghost teaches Gwen how to fit in at an eighteenth century party. And Xemerius, the gargoyle demon who has been following Gwen since he caught her kissing Gideon in a church, offers advice on everything. Oh, yes. And of course there is Gideon, the Diamond. One minute he's very warm indeed; the next he's freezing cold. Gwen's not sure what's going on there, but she's pretty much destined to find out.
This is a review of the second book in a series. Beware of spoilers ahead.
Sapphire Blue continues right where Ruby Red left off. But in the prologue, like the previous book we have a chapter from Paul and Lucy's perspective that will somehow tie everything together in the end. Hopefully. Because so far, I still haven't figured out the whole twelve time travelers and The Circle mystery yet. After the introduction of the precious stone mythology in the first book, Sapphire Blue mostly covers how Gwyneth balances her life between time travelling and being a high school student. Like I expected, this book has more events than Ruby Red does. For instance, Gwyneth's meeting with her grandfather and the soiree.
Gwyneth is a bit less fun to read in this book. She's still funny and sarcastic. She appears smarter in this book when she's planning secret meetings with her grandfather to reveal the mystery behind The Circle. But whenever Gideon comes into play, her immaturity shows up and it's a bit annoying. She easily falls head over heels over Gideon which shows how young and childish she is. She often overreacts or reads too much into Gideon's behavior. Gideon could kiss her once and that would be all she thinks about for days; trying to analyze his intention. I find it annoying when a female character does that, especially if the male character is a jerk. Gideon is all 'I'm handsome and I know it' towards Gwyneth. Even when he appears vulnerable because of his 'feeling' for Gwyneth, it's hard to believe that he's genuine.
It's a lot more fun reading her plotting against The Guardian with her friend Lesley. Lesley is smart and reasonable. She's a good friend to Gwyneth. Lesley's the one who comforts Gwyneth when she's feeling down. Lesley's also the one who tells Gwyneth to get over Gideon whenever something happen between him and Gwyneth. She's probably my favorite character in the series so far. I would like to see her having a romantic subplot with another character.
Xemerius, the gargoyle demon that Gwyneth discovered at the church has become some sort of a sidekick to Gwyneth. Unlike Gwyneth's other ghost friends, he appears to be a useful addition to the team. Although he complains a lot, I find his dialogue funny and entertaining.
Sapphire Blue is a fun continuation of Ruby Red. The timeline can be confusing at times, because of the back and forth time travelling. I believe it's difficult enough to write about time travel without having time paradox. So it took me a while to make sense the timeline events in this book. Nevertheless, Sapphire Blue is still fun to read and I definitely will read the next book in this series.