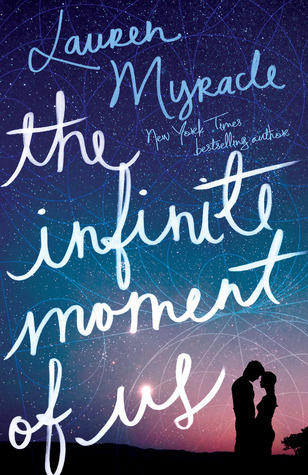 Title of Book:
The Infinite Moment of Us
Author:
Lauren Myracle
Publisher:
Amulet Books
Publication Year:
2013
Language:
English
Format:
Hardback
Pages:
316
For as long as she can remember, Wren Gray's goal has been to please her parents. But as high school graduation nears, so does an uncomfortable realization: Pleasing her parents once overlapped with pleasing herself, but now... not so much. Wren needs to honor her own desires, but how can she if she doesn't even know what they are?

Charlie Parker, on the other hand, is painfully aware of his heart's desire. A gentle boy with a troubled past, Charlie has loved Wren since the day he first saw her. But a girl like Wren would never fall for a guy like Charlie—at least not the sort of guy Charlie believes himself to be.

And yet certain things are written in the stars. And in the summer after high school, Wren and Charlie's souls will collide. But souls are complicated, as are the bodies that house them...

Sexy, romantic, and oh-so-true to life, this is an unforgettable look at first love from one of young adult fiction's greatest writers.
First, I want to make a confession. It was a cover buy. I mean, look at the cover of this book. It's gorgeous. I didn't even know what this book is about. All I knew was that this book is a contemporary young adult book. So I didn't have any expectation whatsoever for this book. I thought, well this might be a fun contemporary read. Basically The Infinite Moment of Us is a love story between Wren and Charlie. High school is over and in the last summer before they go to college or grow up and be adults, they take their chance to discover love.
Let's start with Wren. She is a straight A student. She's an only child and she has the tendency to please everyone (which could be exhausting). At the start of the book, Wren finally decided to stand up for herself and made her own life decision. She also resolved to take more risks and say yes to something new (that later leads to her falling in love with Charlie). Meanwhile Charlie is what some would say the typical gentle guy with troubled past (the dust jacket literally says that except they use the word boy instead of guy). He's quiet and mysterious because he seems to put distance between him and people around him. I would say that Charlie is often misunderstood. And the whole troubled past, almost makes him like a wounded animal (which appeals to me. Ha!). Although it's quite disappointing that his past isn't explored more. You get the gist. The point is, these two come from very different world. Their differences are part of the conflicts in this book.
Charlie and Wren actually have been eyeing each other. It isn't stated clearly because the book starts at the last day of school. Right when they really start interacting to each other. They did talk sometimes before but in a friendly casual way. Like when you interact with your class mates. Just friends, nothing special. It's not an insta-love but it's understandable if readers assume that it is.
This book is addicting. It's a summer love story. It's cute, passionate, and can be frustrating sometimes. You know how young love is. Their relationship builds up throughout the summer until they decide to take it to the next level. This book is promoted as a young adult book but I find it too graphic for a young adult. Not that it's a bad thing. Because I think the author handles the steamy scenes well and reminds me of Judy Blume's Forever. It's just that I'm not used to read it in a young adult book so fair warning for potential readers.
All in all, I enjoyed reading this book. In fact, more than I expected to. I believe The Infinite Moment of Us would be a nice summer read.