Title of Book : A Grown Up Kind of Pretty
Author : Joshilyn Jackson
Publisher : Grand Central Publishing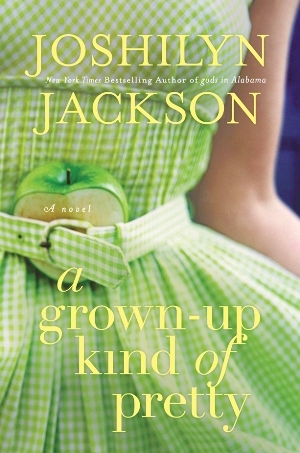 A GROWN-UP KIND OF PRETTY is a powerful saga of three generations of women, plagued by hardships and torn by a devastating secret, yet inextricably joined by the bonds of family. Fifteen-year-old Mosey Slocumb-spirited, sassy, and on the cusp of womanhood-is shaken when a small grave is unearthed in the backyard, and determined to figure out why it's there. Liza, her stroke-ravaged mother, is haunted by choices she made as a teenager. But it is Jenny, Mosey's strong and big-hearted grandmother, whose maternal love braids together the strands of the women's shared past--and who will stop at nothing to defend their future.
A Grown Up Kind of Pretty is basically a story about a small family consists of Ginny, Liza, and Mosey. Ginny Slocumb was pregnant with Liza when she was fifteen which results in her being estranged from her family. Trying to live with her daughter as a single mother, she did everything she could to prevent Liza from having a teen pregnancy like Jenny was. Growing up without a father figure causing Liza to keep seeking attention from any male nearby. Ginny's fear became true when Liza was fifteen and pregnant. Now, Mosey, Liza's daughter, is fifteen and Liza has an unexpected case of stroke. Believing that her small family is being cursed, Ginny tries her best to prevent Mosey from making the wrong choice that she made. But everything really starts to go down after Ginny cuts down Liza's favorite tree to make space for a pool. She thought that she made the right choice because the pool will be a good therapy for Liza's stroke. When Liza breaks down into tears and scream, Ginny begins to doubt her choice. Plus, a small body is found buried underneath the tree.
This book told from three perspectives, Ginny's, Liza's, and Mosey's. In Ginny and Mosey's chapters, the author uses first person point of view. While in Liza's chapters, third person point of view is used. When I see this family, I think of them more as sisters than grandmother-mother-daughter. Each girl has different personalities. Since Ginny is the oldest, she's the most reasonable person of the three. Ginny hates Baptist because of her parents. While Liza is the wildest, even after she grows up. Since in the story she's having a stroke, her narration is the most unreliable. It feels like she's struggling to tell her part. Mosey is more laid-back. She has the impression that everyone in the town expects her to screw up seeing her family's history. Her chapters are the least of my favorite. Mostly because she's a teenager, so she tends to use slang words like 'unpossible' which I find ridiculous.
I thought this book would be a fluffy contemporary, but it's not. It has mystery aspect in it. This book also talks about dark issues like teen pregnancy, adultery, and drugs. A Grown Up Kind of Pretty also revolves around mother-daughter relationship, belonging, and friendship. The mystery behind the body that was buried in the backyard successfully kept me up all night. Liza's past also an interesting aspect within the book. She's the key of the mystery, yet she's unable to help Ginny and Mosey solve it because of her situation.
I love the writing in this book. The setting and the atmosphere remind me of The Help by Kathryn Stockett.Though this book is set in modern day, the southern atmosphere reminds me of The Help. The Slocumb women touch me. Especially how they fight to keep the family intact in their own way. I recommend this book who loves a good blend of chick lit and mystery. I also recommend this book to the reader who love a good book with tough issues and southern setting.